RupertsParty.org: dancing, costuming, friends!
Rupert's Pirate Party.
Saturday April 7th, 2018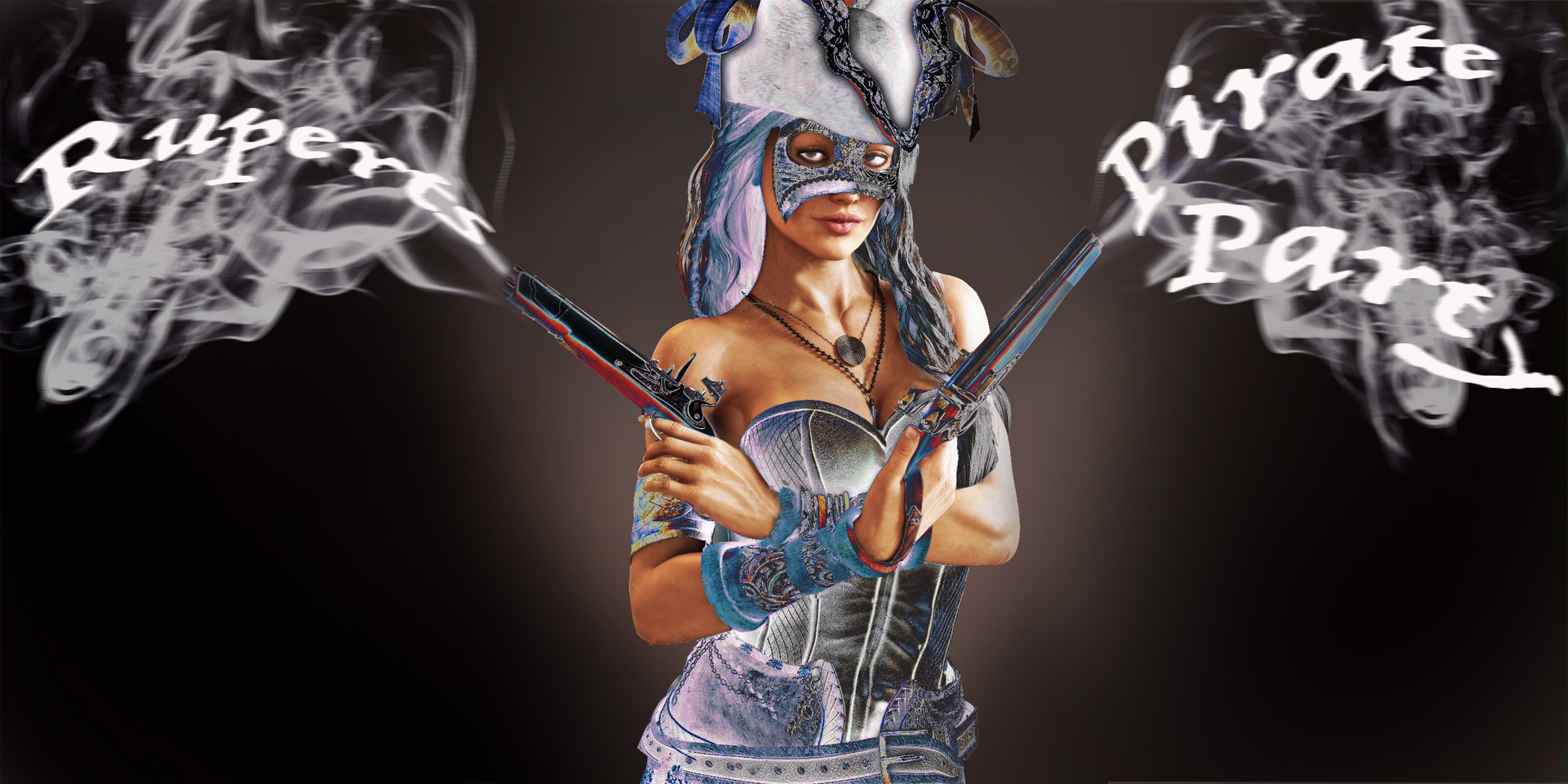 Two fab dancey bands: Billy Martini Show, and Chain of Fools.
We crowd-source these parties. It's $25 per person.
Must wear costume. Bring friends. 6:00pm to 12 midnight
Portuguese Hall, Santa Cruz.
RSVP on Facebook event appreciated:
Join RupertsPartyList! If you want to be on the party list for future events but can't make this party then click on this link.
UN-Subscribe from RupertsPartyList . Click on the link to unsubscribe if you no longer want to be on the party list or got onto it by error. We will miss you! Don't forget to confirm the email you will receive from constantcontact.com; if this doesn't work, email Rupert)
Where:
Portuguese Hall, near Costco, off River St. Santa Cruz.
Bands and Entertainment:
Billy Martini Show. Main band. Very lively band.
Chain of Fools. Opening band. Dancey!
Dragon Lotus belly dancers.
Props:
24 foot long pirate ship. Lots more props coming!
Food:
We will have Rob and the Sauceyz food truck from 6-9pm.
Costumes:
Piratical costume required. Costume prize competition from 8:30pm to 8:45pm. Arrive earlier for judges to see you!
Here's our usual list of costume stores and rental places:
1.Closet Capers, Santa Cruz. Excellent place for renting vintage stuff that doesn't look like Kmart. Ask for our dear friend, Rebecka. Rental only. 1211 Soquel Ave, Santa Cruz, CA 95062 (next to the Rio theater). (831) 425-7685.
2. All Shook Up. Ask for fellow Moose member, Rosie. 861 41st Ave. Santa Cruz. www.allshookupclothing.com 831-465-8393. Buy only.
3.Moon Zooom, 1630 W San Carlos St, San Jose, CA 95128. Best Vintage Clothing 2008 Best of Silicon Valley Reader Survey. Buy only.
4.Moon Zooom, Pacific Ave, Santa Cruz. Buy only.
5.Cognito, Pacific Ave, Santa Cruz. Buy only.
6. Savers, Now corner of Parkmoor and Meridian in San Jose. (Was 2222 Business Circle, San Jose), (408) 287-0591.
7. Crossroads Trading Company, 1959 W. San Carlos Street, San Jose, CA 95128, (408) 292-6100.
8. Park Place Vintage, 1318 Lincoln Avenue, San Jose, CA 95125, (408) 294-9893.
9. Black & Brown, 850 The Alameda, San Jose, CA 95126, (408) 298-197010. Natasha's Attic. San Jose. 1238 S. Bascom Ave., San Jose (408) 286-7368; Rent and buy. www.natashasattic.com
10. Woodworm Party Store (Bay Ave, Capitola). 10% discount if you mention "Rupertsparty"
11. Carriage House. Soquel, Santa Cruz. By appointment. (A friend was very complimentary, but I haven't seen their sign lately).
12. Affordable Treasures, Los Gatos Blvd, Los Gatos.
13. Camouflage, Santa Cruz. Ok, ok, so the back half is a sex toys store, but the front part of the store has colorful clothing!
14. Agz Ragz. www.AgzRagz.com. Ben Lomond. Mention "RupertsParty" for discount.
Why Rupert holds these parties
Rupert likes big parties with his friends; supporting local musicians, artists, community-oriented groups, local businessowners; building interactive props and scenery; and dancing. There aren't enough parties in the winter - we aim to fill that gap. And we believe in supporting creativity in all its forms: music, costumes, props, dancing, conversation!
RupertsParty on the web:
Like us on our "Rupertsparty" page on Facebook: Facebook
Sign up to our Twitter feed @Rupertsparty or www.twitter.com/Rupertsparty
See vids of past parties on our Youtube Channel: http://www.youtube.com/user/rupertsparty
See Patch.com write-up:
http://santacruz.patch.com/articles/rupert-hart-the-king-of-parties-in-santa-cruz-has-a-serious-side?ncid=newsltuspatc00000001
We were also written up in The Examiner:
http://www.examiner.com/article/retrofuture-costume-party-santa-cruz-on-march-30
Click here to see listing in Santa Cruz Good Times Magazine
Previous Party Themes
Purple Party, 73% Eclipse Party, Tim Burton Party. Dali Arti Parti. Brit Party. Bowie UnValentines party, Santa Cruz SantaCon, Polynesian Pool party, Pi party (3.14 2015), Naughty Nautical party, Wig Out! party, Pompeii Toga party, Planet Vegas party, RetroFuture party, Circus party, James Bond party(Jan 2007; get it?), Blinky Ball (had to wear lit-up clothing), Wizard of Oz party, Snail party, Midnight at the Oasis party, Mad Hat party , Titanic party (100th anniversary), Binary Ball (on 10/10/10 ending at 01:01:01 am), Yellow Submarine party, South Pacific party, UnValentines Parties (9th Annual!), Mustache party (even the Ladies, too!). Quite a few Santacoins in Santa Cruz.
Contacts
Rupert
rupert@rupertsparty.org
650 814 7873
(website optimized for smartphones, hopefully)